'Send-off' show to benefit Barbershop quartets, choruses

| | |
| --- | --- |
| Type of post: | Chorus news item |
| Sub-type: | No sub-type |
| Posted By: | John Braden |
| Status: | Current |
| Date Posted: | Sat, May 20 2023 |
Several top Barbershop quartets and choruses in the Midwest will perform June 10, 2023, in Overland Park, Kan., in a fundraiser "send-off" show for groups who will compete at the 2023 International Barbershop Convention, July 2-9, in Louisville, Ky.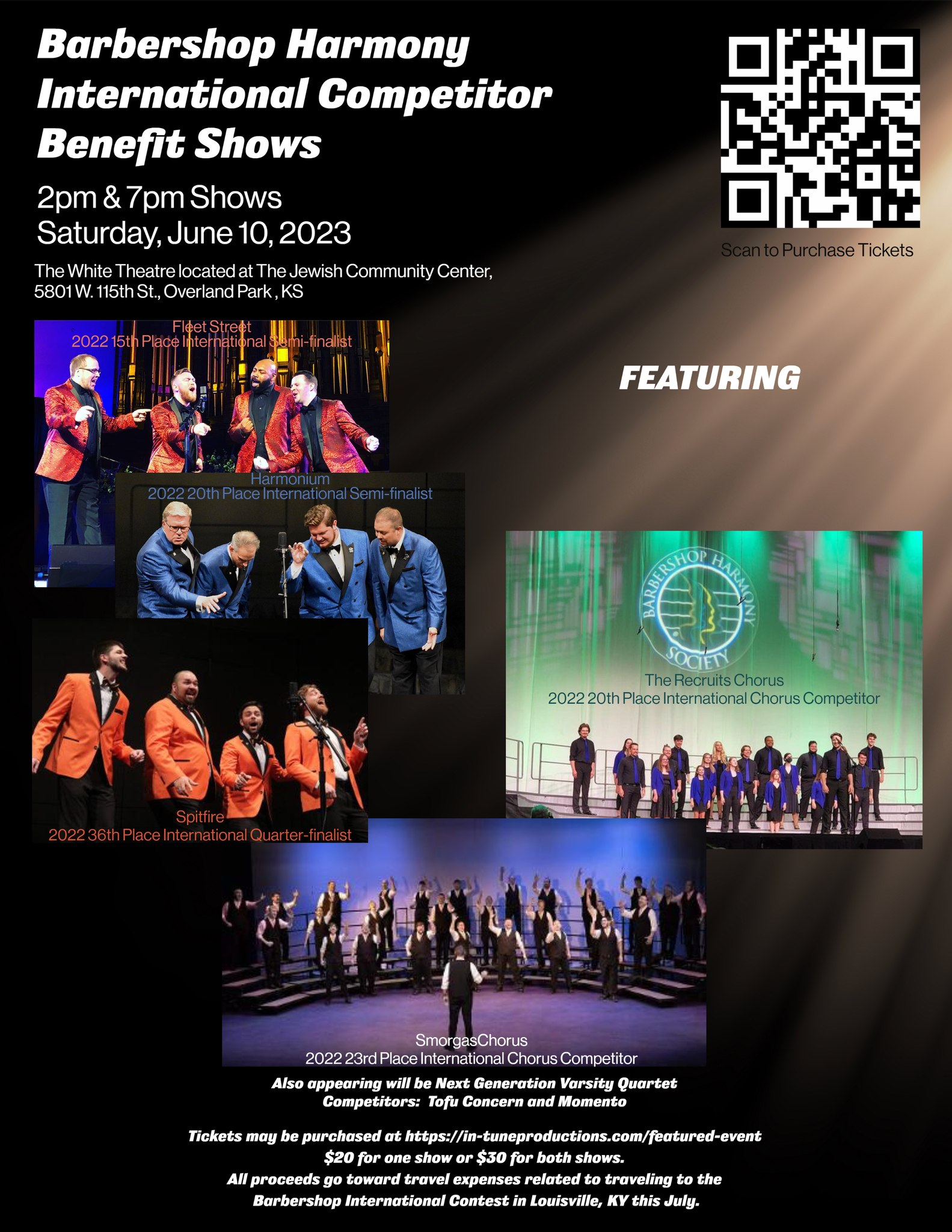 The Barbershop Harmony International Competitor Benefit Shows are scheduled at 2 p.m. and 7 p.m. Saturday, June 10 in The White Theatre of the Jewish Community Center, 5801 W. 115th St., Overland Park. General admission tickets are $20 for one show or $30 for both.
Kansas City's Heart of America Barbershop Chorus is acting as a sponsor for the show, working with organizer Mark Fortino, a longtime HOA member and lead singer of one of the competing quartets, Harmonium.
Performers are to include a host of previous International competitors and district champions, including:
Harmonium
of Kansas City;
Fleet Street
of St. Charles, Mo., Lincoln, Neb., and Cincinnati, Ohio, and
Spitfire
of St. Charles, Mo.
Also performing are competitors in the Next Generation Varsity Quartet contest at International:
Tofu Concern
of St. Charles, Mo., and Tulsa, Okla;
Momento
of St. Charles, Mo., and the Frank Thorne Chapter; and
Evening Glow
of St. Louis, a young women's quartet, (at the 2 p.m. show).
Choruses performing include previous international competitors:
SmorgasChorus
of South Central Kansas and
The Recruits
youth mixed chorus of St. Charles, Mo.
Tickets are $20 for one show and $30 for both. Proceeds go toward the performers' travel expenses to the International Barbershop Convention July 2-9 in Louisville.
Tickets may be purchased at https://in-tuneproductions.com/featured-event or scan the QR code on the show flier or accompanying this article.

Afterglow benefit
A post-show Afterglow is scheduled, following the 7 p.m. show, at Minsky's Pizza, 13400 College Blvd. (College and Pflumm) in Lenexa, Kan. Minsky's also has offered to donate 20 percent of their profits for both Saturday and Sunday to the event. So, patrons could also eat at Minsky's over that weekend and benefit the competing quartets and choruses.