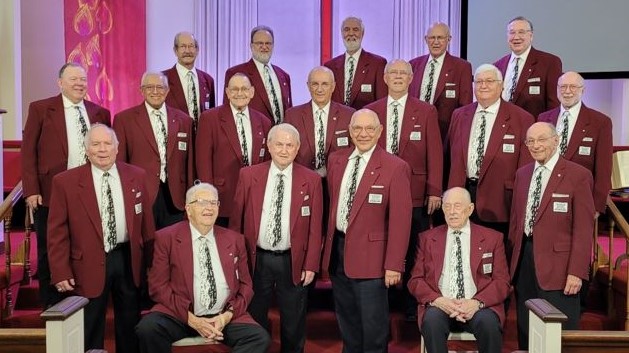 Under the direction of HOA Director Emeritus Jim Bagby
The Handful, as we call ourselves
,
is made up of about 20 retired or self-employed men who love to sing. We call ourselves the "Handful" because you never know who will be available for a given performance. We are members of the Kansas City Chapter
,
second oldest
in the Barbershop Harmony Society, established in 1938 right here in Kansas City in the lobby of the old Muehlebach Hotel.
Our music is four-part a cappella harmony
,
one of only three strictly American styles, joining spirituals and jazz. Our Barbershop Harmony Society is the largest organized male singing organization in the world.
NHH
was formed in 2008 and is directed by Heart of America Chorus Director Emeritus Jim Bagby. Our initial goal was to fill in for church choirs on summer vacation. Since then, we have happily added to our mission performing regularly for retirement, assisted living and Alzheimer's facilities, seniors' groups, award events and daytime social and charitable

gatherings.
To date we have performed more than 220 times. Not bad for a bunch of barbershoppers who come from across the metro area, no trained s
i
ngers in the group, ranging in age from about 60 to 95

as

of 2022, with a wide variety of backgrounds.
When the voice sounds, it blends with all others!
This is the magic of barbershop harmony. We know you will be entertained and uplifted by our performance. Contact:

John Erwine,
jerwine@kc.rr.com
,
816-520-5708
.