HOA 'Roaring '20s' show had two-year buildup

| | |
| --- | --- |
| Type of post: | Chorus news item |
| Sub-type: | No sub-type |
| Posted By: | John Braden |
| Status: | Current |
| Date Posted: | Thu, Apr 6 2023 |
The Heart of America Barbershop Chorus sang in front of "People!" April 1 in its first annual show since outbreak of the COVID-19 pandemic. About 315 patrons attended the "Roaring '20s" barbershop show, nearly filling the venue at City House in Independence.
In addition to recognizing the 100th anniversary of the music of the 1920s, the barbershop show featured a parade of quartets of the Fortino family, an HOA mainstay since college boys John and Mark Fortino joined the chapter more than 30 years ago.
Headlining was Silver Medalist, Midtown, the 2022 second-place International quartet champion, featuring lead Anthony Fortino, followed by 2016 Central States District champ and International contender Harmonium, featuring lead Mark Fortino. First-time-out-of-the-box International contender Tapestry, featuring baritone Jonathan Fortino, came down from Des Moines for the family affair. Rounding out the bill was Fortino & Co., with Mark, sons Anthony and Matthew, and the "& Co.," bass Marshall Crowl of Harmonium.
Little did the HOA Music Team know in 2019 that their "Roaring '20s" show would be three years late in marking the 100th anniversary of the music of the 1920s. Thanks to COVID-19, 14 months of Zoom practices followed by more months of consumer reluctance to sit in performance halls, bumped the HOA annual show from 2020 to 2023.
Backstage with a huge grin, Harmonium tenor Micah Jeppesen exclaimed, "There are PEOPLE out there!"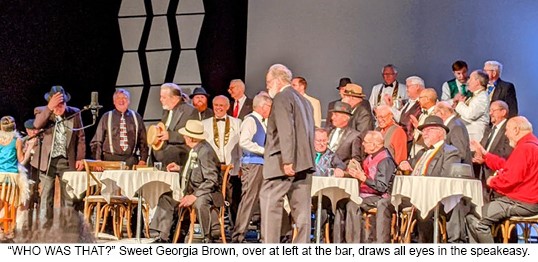 As audience members entered the hall, chorus members began filtering onto the curtainless stage, which was set up to resemble a '20s speakeasy -- "Rupert Hall," a pun on the name of one of the Tulsa businessmen who planted the seed for the Barbershop Harmony Society at Kansas City's Muehlebach Hotel in 1938.
Foursomes from the Homeward Bound "very large quartet" sang Barbershop oldies around the speakeasy bar while the Gambler, the Mayor, the Judge, the Gangster and his Muscle took tables in front of the other customers.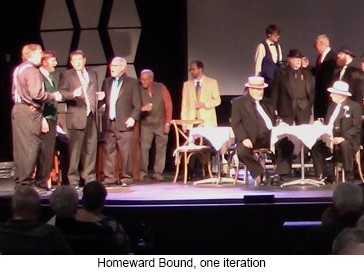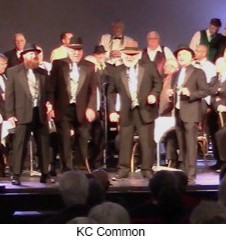 Then, under direction of Carter Combs, the chorus of bar patrons took over, singing "Muskrat Ramble," "I'm Looking Over a Four Leaf Clover," "Sweet Georgia Brown" featuring vamp Jeffi Combs, "Ain't Misbehavin'" with waiter John Braden trying to make up with angry flapper Elizabeth Braden, and "When the Red, Red Robin Comes Bob, Bob, Bobbin' Along."
The speakeasy scene was rounded out by KC Common singing "Has Anybody Seen My Girl?" and Swing Shift singing "Crazy Words, Crazy Tune" with a "Vo-do-deo-do" assist from the chorus.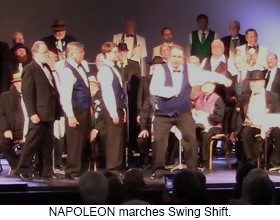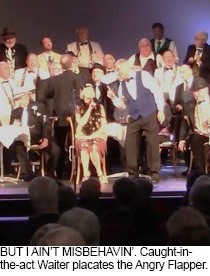 Then came the parade of quartets including a surprise appearance by Swoops 'N Curls, a senior boys' quartet from Mill Valley High School and the highest scoring foursome at February's Harmony Explosion. Invited by Harmonium to sing on stage, Swoops 'N Curls performed "Java Jive" to a delighted audience.
The closing set featured HOA in full black-and-red tuxes performing "That's an Irish Lullaby" and, with the guest quartets, "When I Lift up My Head."
HOA President and Show Chairman Mike Schumacher said, "Every single person that came up to me whether I knew them or not, said they loved everything, chorus and quartets! How could they not? Awesome stuff."
Director Carter Combs added, "Gentlemen, to say I am proud to be part of HOA is a gross understatement. I am so gratified with what we have accomplished in the last few weeks." Combs said going from winning HOA's plateau at Central States District contest, and then putting on a wonderful show only two short weeks later made him quote Gen. George Patton after the Battle of the Bulge: "God, I'm proud of these men!"