Caravan collects $21,577 for Salvation Army

| | |
| --- | --- |
| Type of post: | Chorus news item |
| Sub-type: | No sub-type |
| Posted By: | John Braden |
| Status: | Current |
| Date Posted: | Mon, Mar 6 2023 |
By Mike Mathieu
With all donations finally in, the Heart of America Chorus' holiday Caroling Caravan collected a grand total of $21,577.03 for the Salvation Army.
In just one day, more than two dozen Barbershoppers rode the bus to six area retirement homes on Dec. 17, 2022, caroling, bell-ringing and collecting donations for the Salvation Army. We had a lot of fun, we brought the holiday spirit to eager audiences, and we collected what looks like a record amount to help those in need in the Kansas City area.
After two down COVID years, in 2022 we performed mask free in all but one location. We picked up some of our better locations, and pretty much all increased their donations from 2021 for that grand $21,577.03.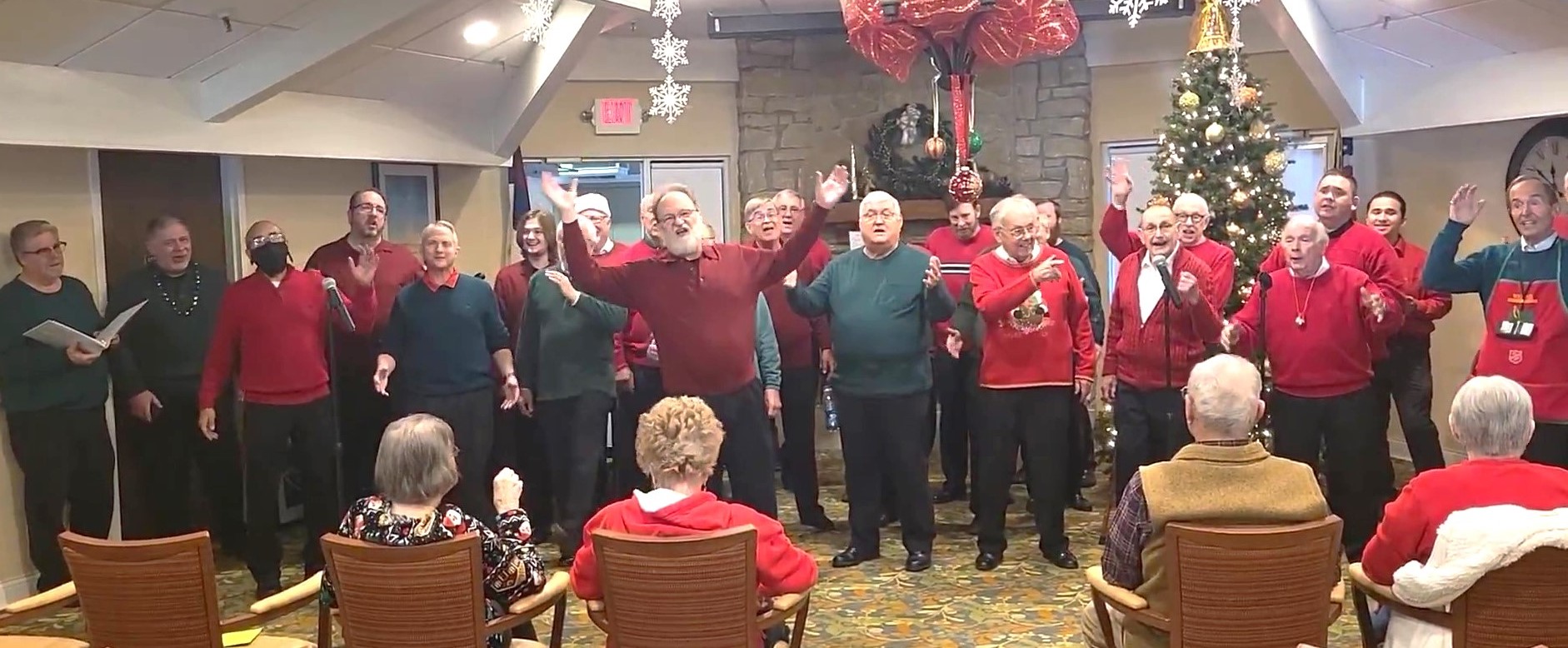 Special thanks to Tony O'Brien and Ted Simon. Those two were a great help and volunteered to take over the Caroling Caravan going forward. Special thanks also to Gordy and Marilou Coleman, who bailed us out a short time before the Caravan by offering to take care of the cost for the bus, which keeps us all together and on time.
Heart of America has supported the Salvation Army for three-quarters of a century, bellringing and singing on the streets and malls of the city. As mall space became scarce, the Caravan was born. All collections go to the Salvation Army, with all Caravan expenses absorbed by HOA and its members.
Thank you to all you wonderful singers and your wives who allow us to be gone all day the Saturday before Christmas. You helped perfect a crazy idea by two of your brothers and make it a musicality reality.
-----
Editor's note: HOA Director Emeritus Jim Bagby adds to Mike: "Thanks and congratulations for ALL the many years you have ramrodded this labor of love. The Caravan that you and Bob (the late Bob Burdick) dreamed up after the malls ran out of space for us was a brilliant idea. We can remember when we thought it was a success if we brought in a few hundred dollars on a looong Saturday of ringing and singing in one mall spot."