HOA gets into shape for Make Music Liberty

| | |
| --- | --- |
| Type of post: | Chorus news item |
| Sub-type: | No sub-type |
| Posted By: | John Braden |
| Status: | Archived |
| Date Posted: | Fri, Jul 15 2022 |
By John Braden
After 14 months of pandemic idleness, the Heart of America Chorus drilled to get back into performing shape, but there were no performances to be had. Director Carter Combs proposed going on the road as a "flash mob" at various community festivals and events.
Near the top of the list of area festivals was Make Music Liberty -- which nobody had ever heard of. Turns out Make Music is a global event on June 21 -- the first day of summer -- in which any musician who wants to can take part. HOA's John Erwine simply contacted them and got HOA and the quartet Swing Shift invitations for three central locations.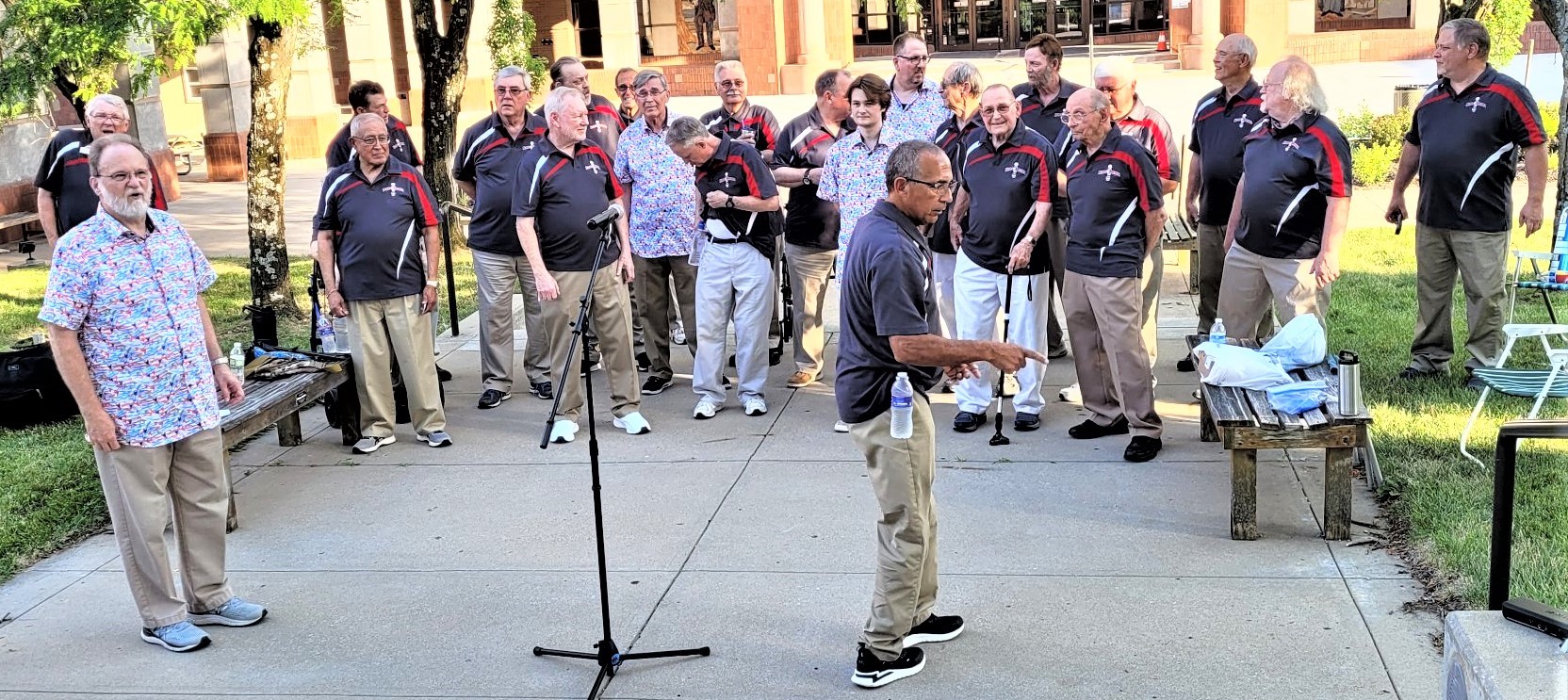 HOA prepares to sing at Make Music Liberty
June 21 brought the hottest singing the chorus experienced in a long time -- temps in the 90s, heat index in the unthinkable.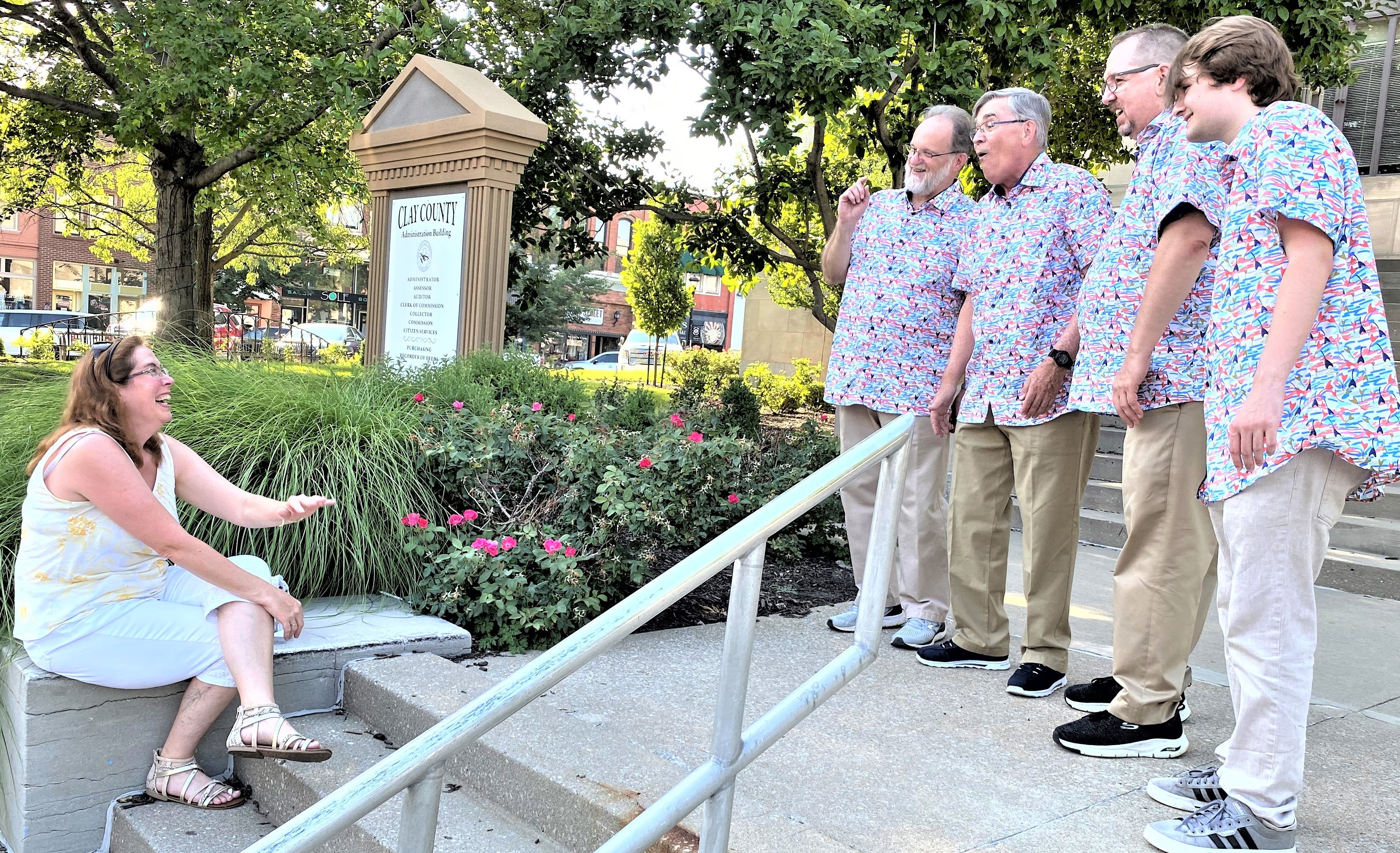 Swing Shift
Swing Shift got lucky, kicking off the chapter's participation with a 4 p.m. performance in the AIR-CONDITIONED Second Baptist Church before about 20 folks. That left time for barbecue and a cold one before they traveled a couple of blocks to the old Courthouse south steps for a 6 p.m. set -- on concrete steps facing south. Fortunately, the sun declined a bit, making shade from nearby trees on the steps, where the quartet sang.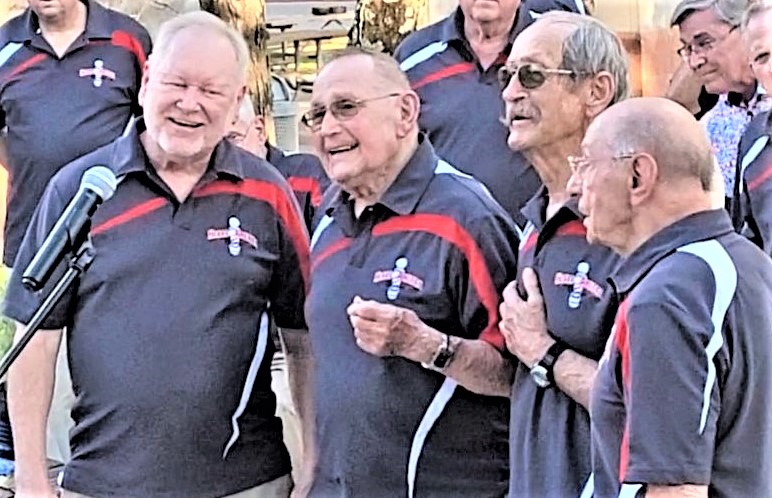 The PBR Boys.
HOA then fiiled into the City Hall Plaza at 7 p.m. where they sang in the shade for about 30 people, then talked with audience members and passed out chorus fliers. The chorus performance featured most of the current repertoire, plus short sets by The PBR Boys, Homeward Bound and Swing Shift again.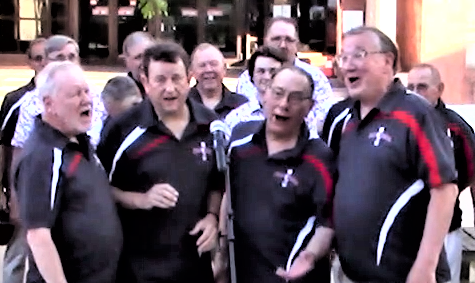 Homeward Bound
The chorus then got a back room at Conrad's Restaurant and Ale House for dinner. Twenty-one of the group assembled around a long table where they ate, drank and sang songs, which drew appreciative visits from other diners in the restaurant. Who knew the guys remembered "Tie Me to Your Apron Strings Again" and "That Old Quartet of Mine," or even knew "The Gang that Sang Heart of My Heart"!