Heart of America had to find another Tuesday night practice spot for two months due to summer remodeling at its regular meeting place, Center High School. As a result, the chapter returned to First United Methodist Church of Blue Springs during the months of June and July.
Members were familiar with the eastside venue at 301 S.W. Woods Chapel Road in Blue Springs. It was the scene of their successful Caroling Caravan recording session in the previous November. The church welcomed the Barbershoppers, letting them use the space at no charge, though HOA made a voluntary donation.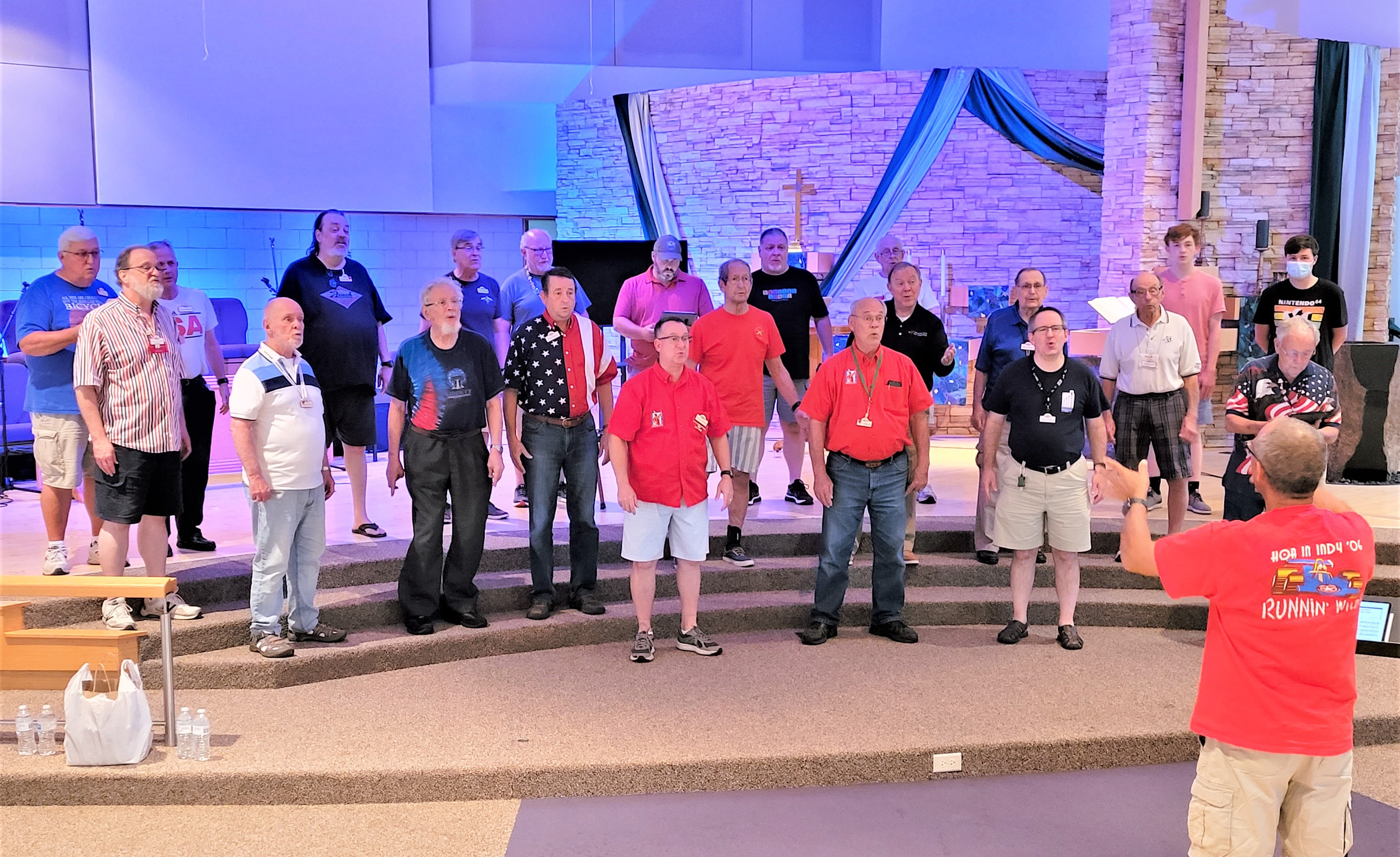 The Johnson County contingent had a longer drive, but for the Northtown guys, the commute was about the same if not shorter for some.
The layout was a change from Center's enclosed, stair-step-floor choir and band rooms. The church's roomy flat floor and padded sanctuary chairs were supplemented by steps on the front of the sanctuary platform that doubled as a chorus riser formation.
The church provided an additional comfort, allowing members who had been vaccinated to forgo their COVID-19 masks.
Afterglow also moved for summer
The post-chapter-meeting Afterglow site also changed with the meeting relocation. Carter Combs led the hunt for a suitable site near the Blue Springs church, settling on Saints Pub and Patio, less than four miles away on Jackson Drive and Little Blue Parkway in Independence.
Because Saints was relatively close to the meeting site and on the way home for most members, attendance was good for the post -meeting eats, drinks and singing. As a bonus, several of the non-chapter-meeting afterglow crowd, led by Director Emeritus Jim Bagby, came to the new afterglow spot to sing tags with newest members Danny Anderson, Chris Walker, Charlie Hill and Andrew Frick.
The fate of the afterglow site is uncertain once the chapter returns to Center, in August if remodeling is complete. Longtime 'glow site Windy City Pub, a far piece away at 133rd and State Line, appeared to be out of the running since they launched video bingo tournaments on Tuesday nights. If you know a place that is reasonably nearby to Center, stays open late, has food and more than soft drinks and beer (for jb!), and has a relatively quiet corner to caterwaul, contact President Mike Schumacher.