By John Braden
After 14 months, the Heart of America Chorus held its first in-person chapter meeting April 20 at Center High School. A total of 22 members met mask-to-mask at 7 p.m. in the band room.
Members were excited to see and talk with each other in person, but were especially happy actually to hear each other harmonize after 14 months of muting themselves and Zoom singing with learning media or videos. The chorus mainly sang traditional Barbershop Polecats plus a couple of "new" repertoire songs they started learning pre-pandemic.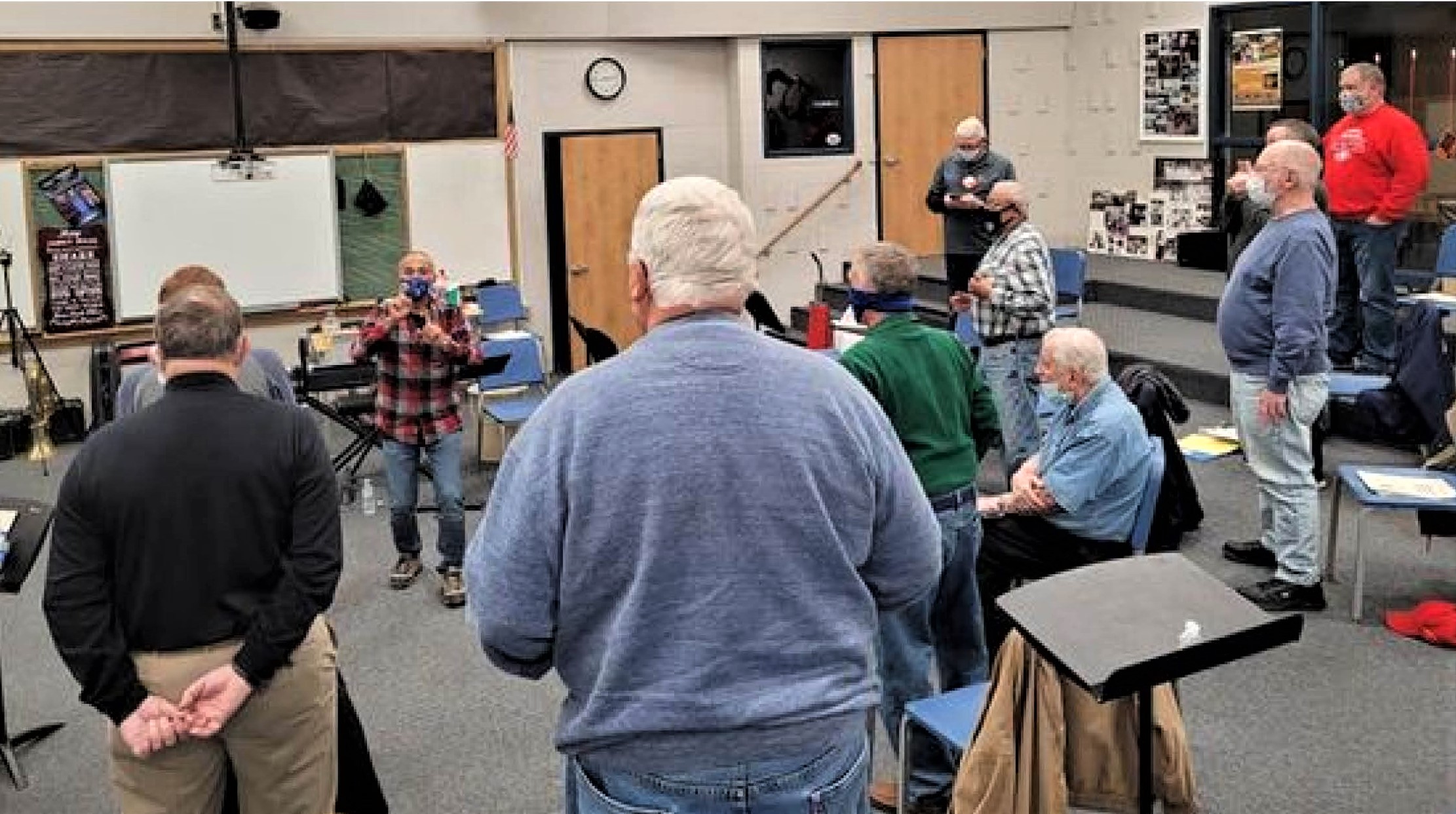 Featured participants were new member Chris Walker and returning "old-timers" Rick Foreman and Carl Turlin.
Those participating were asked to wear masks and submit to temperature checks. Plus, the band room allowed more social-distance space than the choir room the group formerly used.
President Mike Schumacher said the chorus planned to meet in person every other week, making the next in-person gatherings at 7 p.m. May 4 and 18 at Center, 8715 Holmes Road, Kansas City, Mo. The group is to meet via Zoom on the intervening Tuesdays. Schumacher said the chorus hopes to return to weekly meetings depending on results of the trial in-person meetings.
Guests are always welcome, whether actually or virtually.
Speaking of Zoom, the ad hoc Zoom chairman, Barry Sanders, attempted to "broadcast" the April 20 meeting via Zoom to members who are shut in or not comfortable returning in person yet. However, that effort failed due to problems with wireless Internet connection. More research needed.
Technically, the full chorus did meet twice during the 14-month pandemic lockdown, once to practice for Caroling Caravan and to record the virtual Caroling Caravan at First United Methodist Church of Blue Springs. Also a handful of the group met at Cave Springs Park for outdoor singing last summer.
Center has announced that the building will be closed for major remodeling in June and July. The chapter is seeking an alternate in-person meeting place for those months.