By Jim Bagby
After literally missing two months of virtual meetings, the New Harmony Handful returned virtually intact on March 15 with visions of an April meeting with each other actually – in person, that is.
A poll of the 21 NHH members found almost 100 percent have completed both COVID-19 vaccinations. So there was a lively discussion about the possibility and practicality of returning to our Blue Ridge Presbyterian home meeting base by April, or June at the latest. We'll keep our Heart of America family posted. Singing is still second to safety.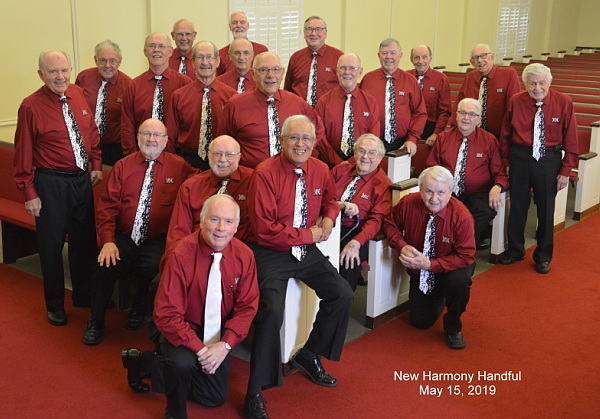 But we had a great time. January weather had wiped out that monthly rehearsal. And in February, arm-waver Jim Bagby was recuperating from a brief hospital trip. After a few anxious days, the doc called and said "No worries, mate."
So Barry Sanders did his usual bang-up job as our Zoom moderator, and also filled in for traveling Don Fuson as DJ. And he had plenty of songs to choose from. John Erwine and Don have recently spent a lot of hours in our library, and got all the songs with four-part tracks to Barry. We also have quite a few more recorded with lead tracks only, so we need to get Jim and our music team on the ball!
In addition to the discussion of vaccinations, our evening included hearing the highly interesting barbershopping life of bass and retired career Army officer Daniel "Bart" Bartholomew. And we tried to catch up on birthdays.
So it was a great night, overall. Some of the singing might have been a bit rusty, but we were happy to be back together. We're eager to sing in person, and have real breaks with the wives' homemade baked goods!