By John Braden
Mike Mathieu -- who has been a leader swinging the red kettle for the Salvation Army for at least 35 years -- announced the Heart of America Chorus raised more than $19,000 for the Army in its first-ever virtual Caroling Caravan.
The Coronavirus pandemic upset the annual plan in which chorus members and quartets loaded on a bus to visit a handful of area retirement centers, singing and bellringing. For the previous 17 years, the Caroling Caravan, led by Mike and Bob Burdick, sang to residents and raised in the neighborhood of $25,000 in a single day.
With retirement centers locked down for the duration, the chapter hit on the idea of video-recording a holiday concert for distribution, primarily by YouTube. The First United Methodist Church of Blue Springs agreed to provide its facility and its volunteer camera and sound crews to make the recording.
Mike said donations totaled $19,482. He said he was disappointed that the virtual Caravan could not top previous receipts. However, HOA President Mike Schumacher said he was amazed by the overall efforts by the 32 guys who stepped forward and wanted to be a part of this historic HOA event.
President Mike said not only did we raise funds for the Army during a very bleak year of contributions but he hopes HOA members feel good about giving some people, many who were quarantined in their rooms, the love, joy and hope that should abound during this time of the year!
"I want to express our undying gratitude to Mike Mathieu and Bob Burdick for their leadership in our past Caroling Caravans," President Mike said. "I pray we can get back on our bus in 2021 to bring our holiday cheer to as many as we can in person."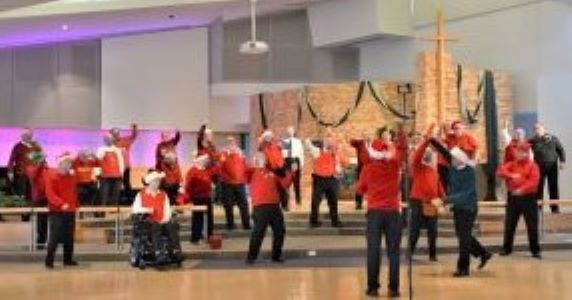 As always, Mike Mathieu carried out the real legwork for Caroling Caravan. Mike contacted Vocal Spectrum, 2006 International Quartet Champions, who gave us permission to include three of their Christmas songs on our finished product. Mike also contacted our mainstays, the retirement centers who could not allow us to visit in person due to the COVID-19 scare.
Mike spent hours contacting activities directors to tell them HOA had not forgotten them and we would be bringing holiday cheer to their quarantine conditions in a new performance they could show as many times as they wished. Mike also hustled contribution fliers and envelopes to all the centers to ensure they did not forget to contribute to the Salvation Army. Other donations were sought by chapter members and friends forwarding the hoachorus.com website and Caroling Caravan YouTube link to friends and acquaintances.
Board members ensured the recording session could be conducted safely -- socially distanced on a large "stage" in a sizable sanctuary with a ventilation system that draws in outside air. After not singing together for eight months, chorus members masked up and submitted to temperature checks on entry for one rehearsal, Oct. 27, followed by the performance on Nov. 7, 2020. Singers' usual holiday garb was highlighted by the addition of colorful Christmas-themed facemasks.
Bob Velazquez, Jim Bagby and Mike Schumacher directed the holiday songs, while Mike Mathieu recorded all the intros and donation pitches for the Salvation Army. In addition to the video performance of Vocal Spectrum, chapter quartet Swing Shift provided a video recording.
Bob Velazquez recruited the chapter website whiz, Marlin Weidler, to splice together the individual recordings into our own music video, which was posted on YouTube and highlighted on HOA's new website.
To continue to donate to the Salvation Army through HOA, go to https://donate.salarmymokan.org/campaign/2020-heart-of-america-chorus/c308426.