By Jerry Meier
Central States District President Duane Lawson installed the Kansas City Chapter's 2021 officers with a resounding "Hell Yeah" to renew their commitments to serve and support the chapter.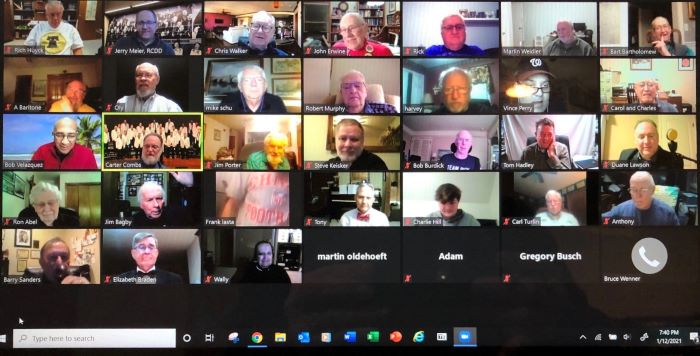 President Mike Schumacher counted 37 chapter members and four guests who attended the 2020 Awards and 2021 Installation (non-)Banquet via Zoom video conference on Tuesday, Jan. 12. Guests were Duane, Chris Walker, Charlie Hill and Dale Neuman.
The 2021 officers are as follows:
President Mike Schumacher
Immediate Past President Barry Sanders
Secretary Tom Hadley
Treasurer Harvey Shapiro
Executive VP Harvey Shapiro
Marketing VP Adam Singleton
Chapter Development VP Don Fuson
Music & Performance VP Carter Combs
Operations VP Steve Keisker
Program VP Jerry Meier
Members at Large: Tony O'Brien, Vince Perry IV and Marlin Weidler
You might recognize the fact that all 2021 officers agreed to return to serve another year, since 2020 seemed to be "not an actual" year on duty. Thanks were given to former Board Member Greg Busch, who did not re-up because he's returning home to Indianapolis.

Bob Velazquez, Heart of America Chorus director, renewed his commitment to lead the 2021 Heart of America Barbershop Chorus and to improve the chapter and each member this year.
President Mike Schumacher reminded us that the Heart of America Chorus is "our chorus." He encouraged all members to continue promoting our chapter and our chorus, while conversing with potential new members and customers. He challenged chapter members to continue working through the pandemic to prepare for future performances – they will come and we will have fun!
John Braden stepped in again as the "Official Organizer of the Awards" to recognize and honor the 2020 award recipients:
-- Ron McIntire was recognized and honored with the John Cross Award for 2020.
-- Marlin Weidler was recognized and honored with the 2020 Barbershopper of the Year Award.
-- There was no Oz Newgard "Ozzie" Award given in 2020 for Outstanding Musical Service to the Chapter.
-- There was no Joe Stern Chapter Lifetime Achievement Award given in 2020.