By John Braden
About 300 people filled a big sanctuary in Garden City, Mo., on July 24, 2021, for the Calvin Yoder Memorial Hymn Sing. There were Yoders -- lots of Yoders -- plus members of Sycamore Grove Mennonite Church and members of the Garden City Community Choir, who Calvin directed in an Easter Cantata for 49 years.
And there were Barbershoppers, including a bunch from Kansas City's Heart of America Chorus, gathered to honor the passing, April 22, 2020, of the lead of one of the Barbershop Harmony Society's most beloved International Champion quartets, HOA's own Rural Route 4.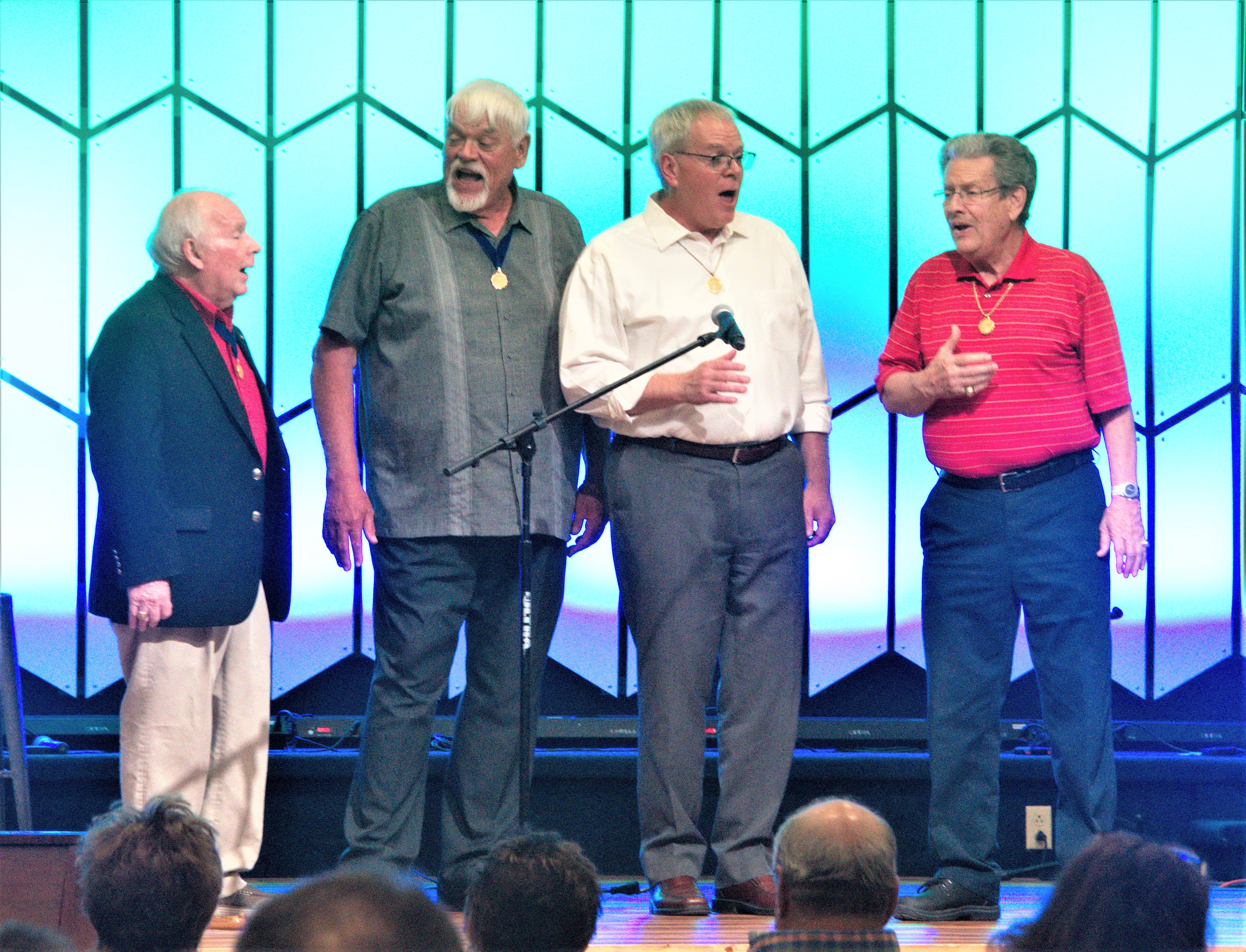 The Rural Route 4 even performed "two whole songs!" as bass Willard Yoder, Calvin's brother, might say. Yes, there were four RR4 members there. Calvin's son Wesley, who succeeded tenor Don Kahl in the quartet for four years, joined Don, Willard and baritone Jim Bagby, this time singing his Dad's part, lead.
The quartet sang "Heavenly Love" and a RR4 favorite, "I'm Feeling Fine." Wesley carried off the major lead solo feature of "Feeling Fine" with a gusto that would have made Dad proud. One HOA audience member said, "Close your eyes and you can hear Calvin."
Wesley also filled in Calvin's part with Jubilee Transfer, the gospel quartet including Willard, Willard's sister-in-law Darla Zook and her sister Ranae Almos. That foursome sang "Shadow of the Cross/Face to Face." And as a thrill to folks after the service, Jubilee Transfer also sang a quartet favorite "I'm Winging My Way Back Home."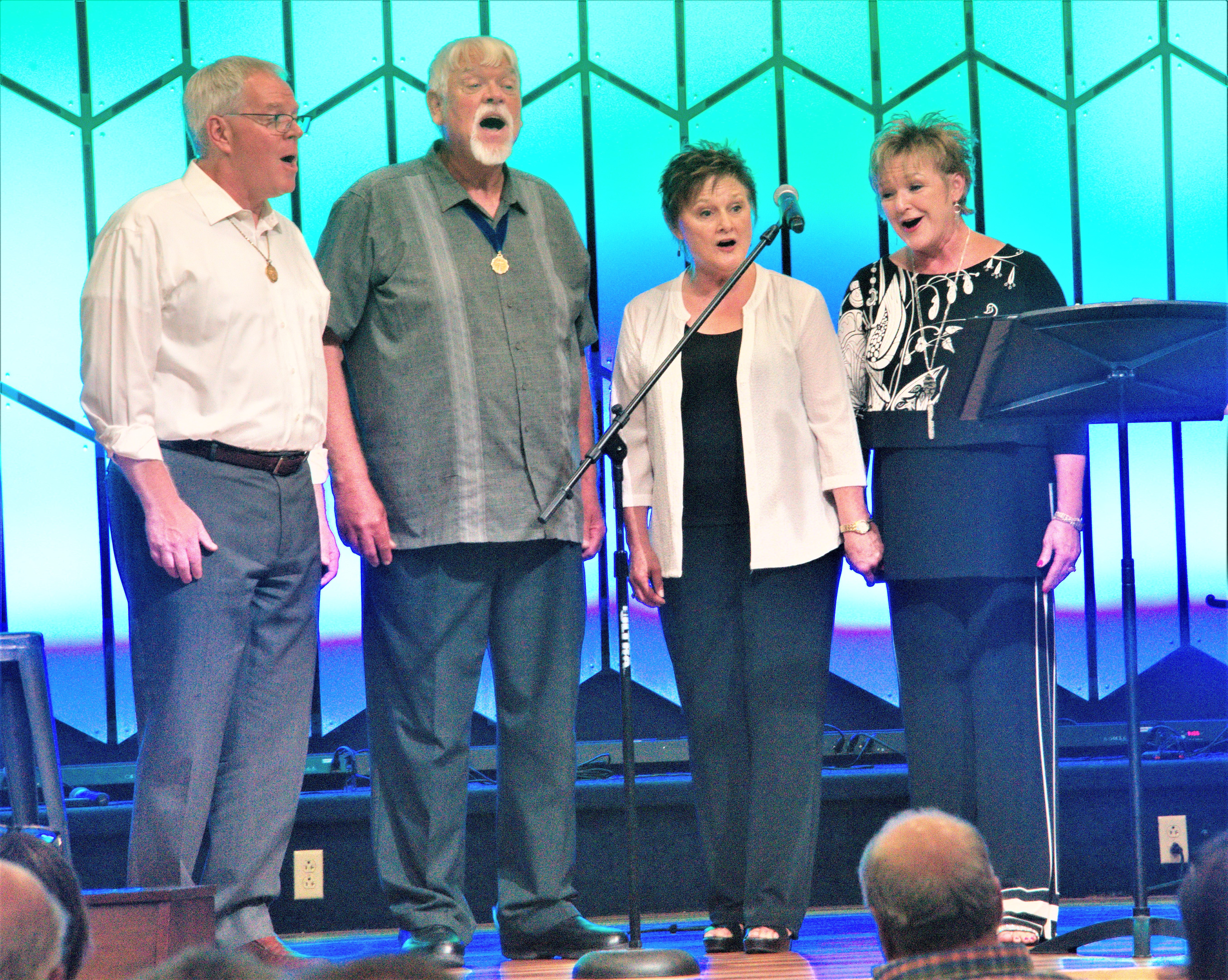 And the Yoder family, numbering more than 25 including babies, took to the stage to sing "Standing on the Rock."
But singing by everybody was what the evening was about. The Garden City Community Choir, which organized the event, set the tone, passing out gospel hymns for the audience to sing. To house the expected crowd, the service was held at Garden City's Heart of Life Church.
Karen Cook welcomed folks on behalf of the choir, saying Calvin encouraged people to sing, especially praises to Jesus Christ. She said portions of the hymns they distributed had been "Calvinized," with unexpected key changes and chording changes. "If it doesn't sound familiar, it's Calvinized."
Calvin himself put in an appearance on video. His wife, Michelle, said due to the COVID-19 shutdown, he was unable to see many people after his terminal diagnosis and wanted to leave a message. He began by singing in a strong voice "Precious Lord,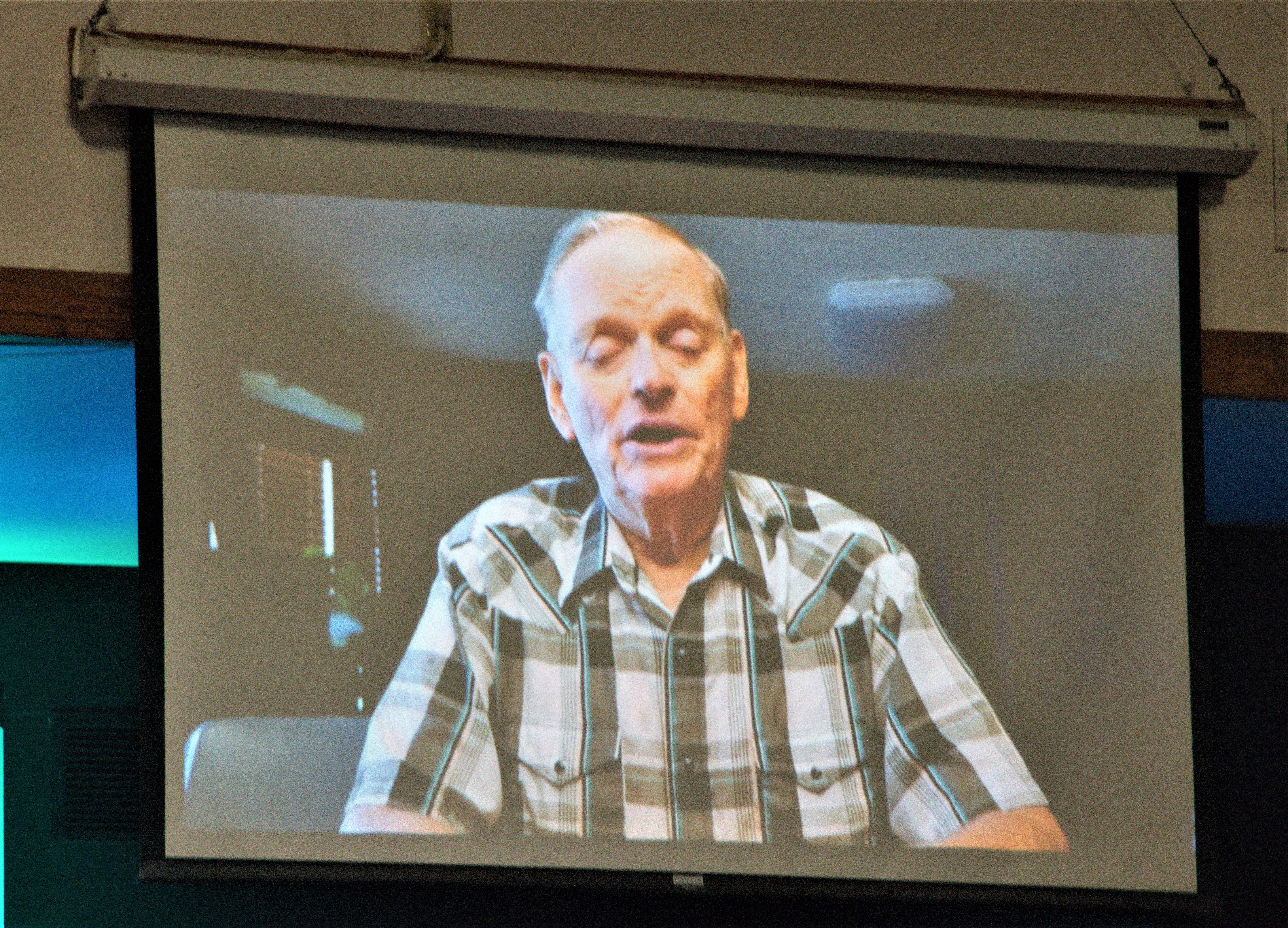 Take my Hand," and "What a Day that Will Be." You could hear audience members humming in harmony with h

im.
"Goodbye for now and I'll see you in the morning," he said.
"I met him like 48 years ago and I always thought I was his best friend," Jim Bagby said. "And then before we started here, people were coming in and I was saying hello to folks. I found out everybody here was his best friend... So, if I'm not his best friend, I'm one of the luckiest guys alive because I got to sing with him."

Photos by Rich Huyck.